This embarrassing moment has to go down as one of the memorable moments during the 'BUCKY' shoot. We were doing some travelling shots of a kid riding his tricycle through the streets. We had a Steadycam operator, James Elias, who was hanging out of the back of a jeep trying very hard not to fall out.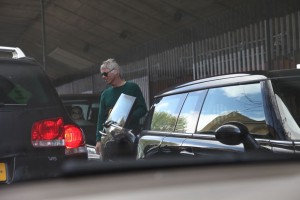 I was driving, Ed Moore the DOP was in the passenger seat. In the back we had Ed Lancaster, our Key Grip along with a couple of crew, plus a load of gear. It was uncomfortable. Steve Keys was driving behind with his daughter who was on 'Unit Photographer' duty. We were under the flyover near Portobello in Notting Hill when I pulled over to have a chat with, 'The Modfather', Paul Weller
I first met him about twenty years ago when my best mate, Dizzi Heights used to be his rapper. So we are having a good old gas "how is he?…yeah?….nah?…. really?". Now all this time the guys in the back are all suffocating and our schedule for that day was so tight I absolutely understand when Ed Lancaster leans into the front seat and throws the most vicious of hints at me and Paul in a voice and tone that could start wars. "Come on Danny, we haven't got all day".
I don't know who took it worst, me or Paul. I closed my eyes as my head sank into my right hand, Paul spun around as he said goodbye with a look on his face that seemed to say, "you've got no chance of me doing a couple of tracks for your film now, mate". The look on my face must have said, "How the f*** did he know I was going to ask him that?"
I was bit a stunned as we drove off but it was painfully true that I really didn't have the time to be hanging around with pop star legends…. We had a film to finish? You couldn't write it.